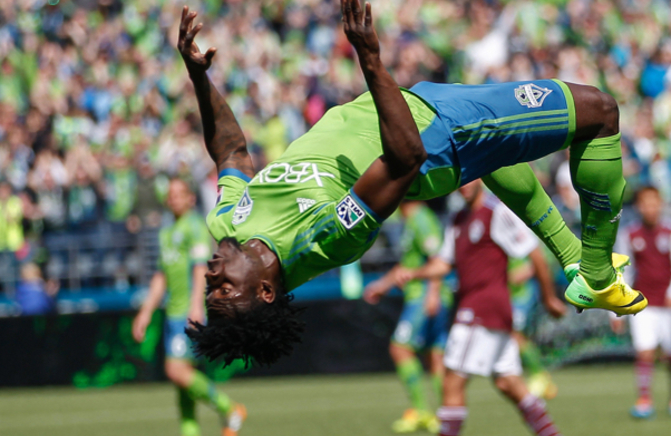 Obafemi

Martins
Obafemi Akinwunmi Martins or "Oba" as he is passionately called, was born in Lagos, Nigeria on October 28th, 1984. Growing up, Oba and the local boys could be found on the dusty streets, barefoot, playing football. Obsessed with the game, they would play before, after, and even on the way to school. It's in these small sided games Oba developed his precision-play and his patented trademark flip celebration.

When Oba was fourteen years old, he was spotted playing in the streets by a local coach and he was invited to play for the local club FC Ebedei. He accepted the invitation, kicking off what would soon become a successful and legendary career for the Nigerian. His play garnered interest from clubs in Italy. With great difficulty, he left his parents at age fourteen to pursue his dreams in Italy. Knowing little about the clubs, he followed an old friend from the Nigerian youth team and signed a contract with Milan in 2001. During his time at Milan, he performed admirably, scoring 37 goals in 105 domestic games. He decided to leave Italy for England and, in 2006, Glenn Roeder signed him to Newcastle. Over the next 6 years, Oba would make an impact for clubs in England, Germany, Russia and Spain. Then in March of 2013, Oba left Levante, Spain and was officially signed to Seattle Sounders FC.

Oba has enjoyed a consistent period of top-class form in MLS. He has received a number of accolades including a club record for most goals in a season, a tied record for most assists in a season, the MLS MVP runner-up, MLS Best Eleven, and the 2014 MLS Goal of the Year award. In light of his performances, he was also named an MLS All-Star in both 2014 & 2015. He was one of the most sensational players in MLS and has an electric reputation for scoring the unbelievable.

Following his spectacular 2015 campaign with the Sounders, the ownership and management of the Shanghai Greenland Shenhua made Oba one of the higher profile signings in the China Super League for the 2016 season.